It's such a shame that so many travelers throw money away when renting cars in the United States and Canada. A lot of people don't know about this huge scam: car rental insurance.
Yes, it's one of the worst scams (or even the worst scam according to many) in the entire travel industry, an industry with so many scams to avoid. Yes, it's that bad.
Rental car companies always try to sell you insurance coverage when you rent a car but you probably don't need to pay for that (only if you meet the 3 criteria below).
Since we've just launched our car rental search tool (to complement the one for hotels, for flights and of course our limited-time flight deals, which are our main focus), here is a very useful tip to avoid one of the worst scams there is: paying for something you don't need to pay for.
By the way, I've already shared a detailed article to help you save money on your car rentals, because rental cars can be really useful depending on what kind of trip you're planning (especially when headed to Canada and the United States, because Europe and Asia are often easy to explore without a car). It's based on my experience of renting dozens and dozens of cars, it's a useful read (and more tips are coming soon).
A lot of travelers don't know that much about renting cars, so in that article, I share the best tips with you, and I also debunked some myths that make no sense, like when I hear someone say "this car rental company is the least expensive" (no matter which company accompanies that statement, it's always wrong… same goes for airlines by the way).
Is Car Rental Insurance Necessary?
It's always necessary. But do you need to purchase it from car rental companies? Sometimes yes, but for most of you, for most of your trips, no… you shouldn't. It can often double (or even more than double) the price of your car rental… it's completely ridiculous!
When renting a car in the United States and Canada, when you follow our tips in the article cited above, it can often cost you as little as $20 a day, taxes and fees included (not if you book the day before of course…) in many markets. It is often cheaper than a single taxi / Uber ride in most cases.
Here is one great example, during my roadtrip in Oregon on the Pacific Coast last fall (one of my favorite roadtrips ever by the way, and I've done many… pictures and videos to come soon in our travel inspiration section, it's so beautiful).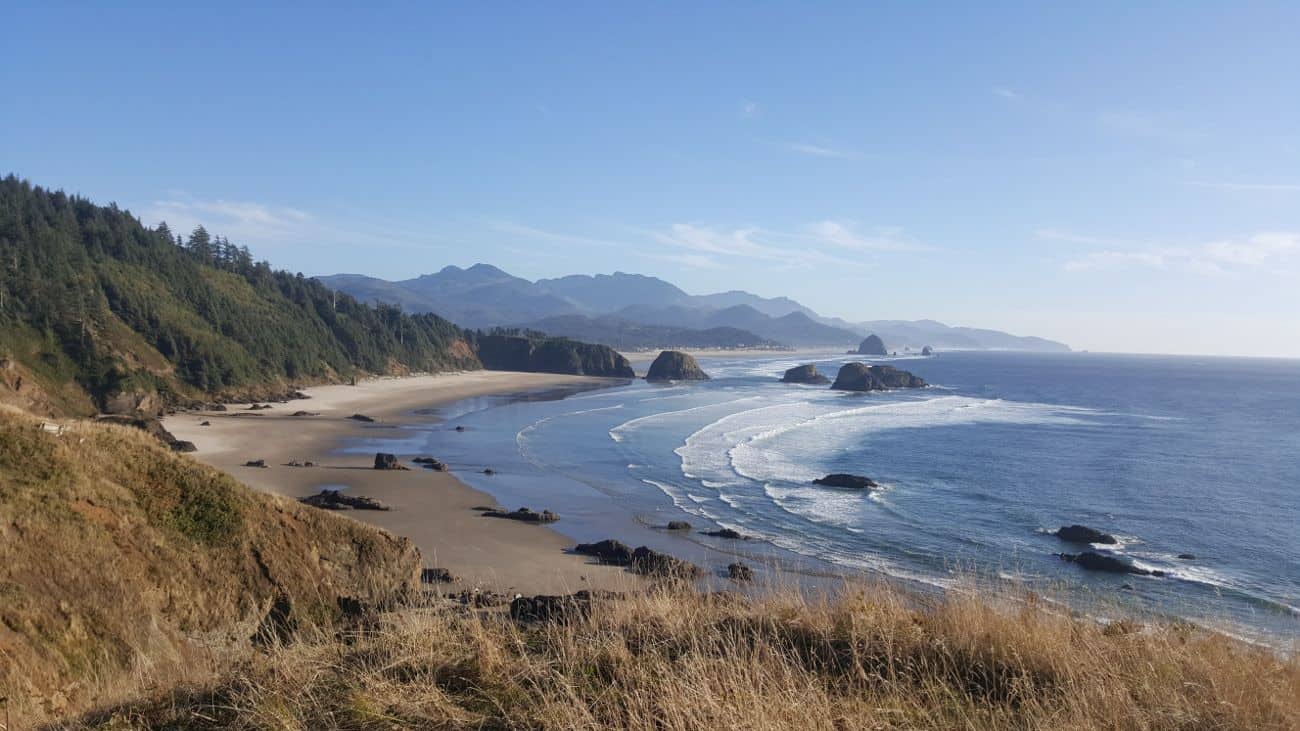 If you look at my rental statement below, for a 4-day rental, it didn't even cost me $80, so less than $20 (US) per day.
Look at the right column: they are obviously trying to sell me different optional insurance policies (not one, but two). LIS and LDW, the first two lines on the right. And two other expensive extras.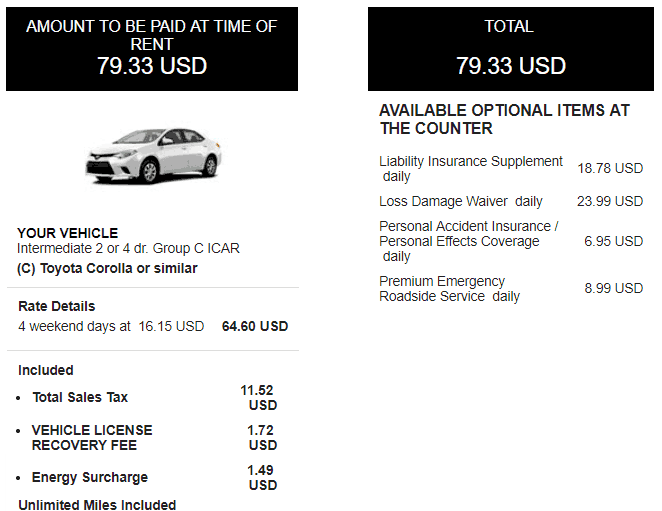 Paying for both would be the $40 a day (you can see it says "daily" in the description), and that's not counting the other things at $7 and $9 a day. That's 200% of my actual rental price, just in unnecessary insurance.
Instead of $80, it would have cost me $240 if I didn't know it was a scam… and I'm sure a lot of people don't know and pay $240 thinking that they have to… if that's not the biggest scam in the travel world, I don't know what it is.
The difference between paying $240 and $80 is huge on a trip's budget… in fact the $160 I saved literally paid for my round trip flight to Miami. Or it could pay for a night in an excellent hotel, or 30 nights in a hostel in Bali.
And that's just for a 4-day rental, imagine how much money you'd throw away for a week-long rental. Anyway, the point is, it's a real scam. Most of the time.
By the way, these insurances are way more profitable for rental companies than the actual rental fees, because they're so expensive and cost them almost nothing (makes sense that they never cost the companies anything, since they are useless in most cases) !
Here are the three conditions that must be met for you to refuse these insurance policies and save money.
How To Avoid Paying Car Rental Insurance
There are two types of insurance car rental companies will try to charge you for, and you can decline all of them if you meet these 3 simple conditions (and most times you can at least decline one of the two).
It's as simple as this: if you already have personal auto insurance, if you have a travel credit card and if you are renting a car in Canada or the United States you are already completely covered for free and don't need to pay for something you already have.
Check your coverage to be sure, here's what you need to know.
1st condition: If you have a personal auto insurance policy
If you own a car, you have an insurance policy. If you are well covered, the vast majority of Canadian insurance policies cover you even when renting a car for the liability part of the insurance, for free… as simple as that. If not, you can often add the option for a full year for the same price the car insurance company charges you for a day.
So if you have this option in your auto insurance, you are covered with rental cars just the same as if you are driving your own car, for liability and damage… completely free. In fact, you are already paying for, in your insurance premium … so do not go and pay again with the rental car company, you already have it! That's a scam!
VERY IMPORTANT: ALWAYS CHECK with your insurer because every insurance company policy is different. I've had 3 car insurers in my life, all 3 included rental cars… but there are many companies… I won't name mine, because I don't want you to read your insurer's name and assume everything is good. CALL and CONFIRM before, and while you're at it, ask them to email you some kind of letter that proves you're covered, they'll know what you mean.
Save this if needed, sometimes the rental company will ask you for it (never happened in dozens of rentals with the 12 reliable major companies mentioned in what to know when renting a car, but if you don't follow my advice and you rent with smaller companies, apparently they sometimes ask for it).
And by the way, also check the car value limit, usually it's $50,000, so don't rent a Ferrari or you might not be covered. Also, pick-up trucks or vans might not be covered by your personal policy, so ask for all the details.
And it only works if…
2nd condition: If you rent a car in Canada and the United States
Again, there are many insurance companies… many possible policies. Ask them at the same time. But in my experience, other countries will not be included in your personal auto insurance. Maybe some of the cheaper insurers only cover rentals in Canada… maybe some cover elsewhere as well! Never heard of it, but I guess it's possible, so check it out, and get it in writing. Most of the time, Hawaii and Puerto Rico are also excluded, sometimes Alaska too. So make sure to validate what is included, and if ever your insurer is too restrictive, consider this feature when you renew and maybe change insurer, especially if you rent cars regularly.
And finally, your personal insurance policy is great, but it's not complete.
3rd condition: If you pay with a travel credit card
The second type of insurance that was on my statement shown above (Loss Damage Waiver, sometimes called Collision Damage Waiver or the doubly cryptic Collision / Loss Damage Waiver) is not something that your personal car insurance policy will cover and a thing you should have to be completely covered.
It's necessary, but it's really not a good reason to pay $20 a day for it.
Why is that? Because just about every good travel credit card offers it for free, and many cards are free. You just pay for the car rental with the card, and it's included and free, no charge (it's just the damage part, it is not a liability insurance so you need the liability part from your personal auto insurance policy). Another great reason to have travel credit cards (they also give you $500 completely free for hotels/meals if your flight is delayed over 4 hours), as if getting free travel as signup bonuses wasn't reason enough.
For example, by far the best credit card offer in Canada right now is the Scotiabank AMEX Gold card: it gives you $161 in free travel just for getting the card, and anyone who earns over $15,000 is eligible. It has rental car insurance included for free. Just be sure to keep your current and oldest cards open for your credit history (more details in the 10 Credit Card Rules For Travel Hacking).
If you are financially responsible, you should get started in the world of travel hacking, it's a great way to get free travel, and this thing is not a scam. I've been doing it for 10 years and will be sharing many more articles and tips in the coming weeks. You can view this month's edition of our ranking of the best credit cards currently available in Canada and make sure you're subscribed to our free newsletter to get all our tips and flight deals in your inbox.
When To Decline Insurance From The Rental Car Company
Last note, unlike your personal insurance, credit card rental car insurances (for the Loss / Collision Damage Waiver part) should also cover you in Europe and even more countries even. Each card is different, always check the certificate of insurance that comes with your card.
So in a nutshell, you always need the liability insurance, so if you're renting in Canada/USA, your own insurance would cover it, and the credit card would cover the damage part. You could decline everything the rental car company is offering and save a lot of money.
If you are renting outside of Canada and the US (or aren't covered by your personal policy or don't own a car), you must pay for the liability insurance with the car rental agency, but you could still decline the loss / collision damage part if your credit card covers it globally (I know mine works in literally any country, but it is the very premium AMEX Platinum card we only recommend to very frequent travelers, so check to see what yours covers)
Now you know when you can avoid paying for something you can get for free, which is quite a scam. Do you have any experience with this?
Help us spread the word about our flight deals and travel tips by sharing this article and most importantly bookmark Flytrippers so we can help you navigate the world of low-cost travel!
Advertiser Disclosure: Flytrippers receives a commission on links featured in this blog post. We appreciate if you use them, especially given it never costs you anything more to do so, and we thank you for supporting the site and making it possible for us to keep finding the best travel deals and content for you. In the interest of transparency, know that we will NEVER recommend a product or service we do not believe in or that we do not use ourselves, as our reputation and credibility is worth far more than any commission. This principle is an essential and non-negotiable part of all our partnerships: we will never give any third party any control whatsoever on our content. For more information on our advertiser disclosure, click here.
Share this post to help us help more people travel more for less: